Are you READY? You're right, sometimes, it seems like… life doesn't CARE if you're ready, does it?
It's pretty cool though, normally, things work out pretty good, don't they?
It's the end of 2017. A LOT of people I know are in the middle of some serious transitions preparing for 2018.
THIS blog post is like a 'line in the sand' too! A demarcation point. 
The cool thing about these lines, and something I'm working on embracing, is that YES, they CAN BE as temporary and flimsy as a rope in a parking lot!
Like many of you, I have commitment issues, have for my whole life, and I've finally figured out – that is JUST FINE! As a matter of fact, it's a BLESSING!
Allow me to explain?
I'm afraid of saying, to you, that there's a drastic change happening. I'm afraid of committing to delivering a WHOLE NEW experience to you. I'm afraid, frankly, of letting you down.
It would be GREAT if I could assure you that you will never have a video from me with 'bad sound' again! Or if EVERY blog post were to be professionally developed, honed, designed and massaged into perfection for you… I would be STOKED to know that my 'level of professionalism' or 'quality output' were suddenly elevated to the highest standard I can imagine.
But… I'm afraid. I'm afraid I'll let you down. I'm afraid I won't be able to deliver that level of quality, consistently, and repeatedly. I'm SURE you understand and relate honestly. And if not, just share something with me, and I don't care who you are, how much energy and time you spent making it perfect, I PROMISE I, or someone else, can find something 'wrong' with it! You know it, huh?
So, – instead of a Line of Demarcation as long established, permanent, and prominent as the equator, I have a few 'tricks' I use to allow me to MOVE FORWARD! I'm using them ALL as I type this! One is keeping in mind, it doesn't have to be permanent. It CAN BE temporary! I can test it, taste it, and see if I like it!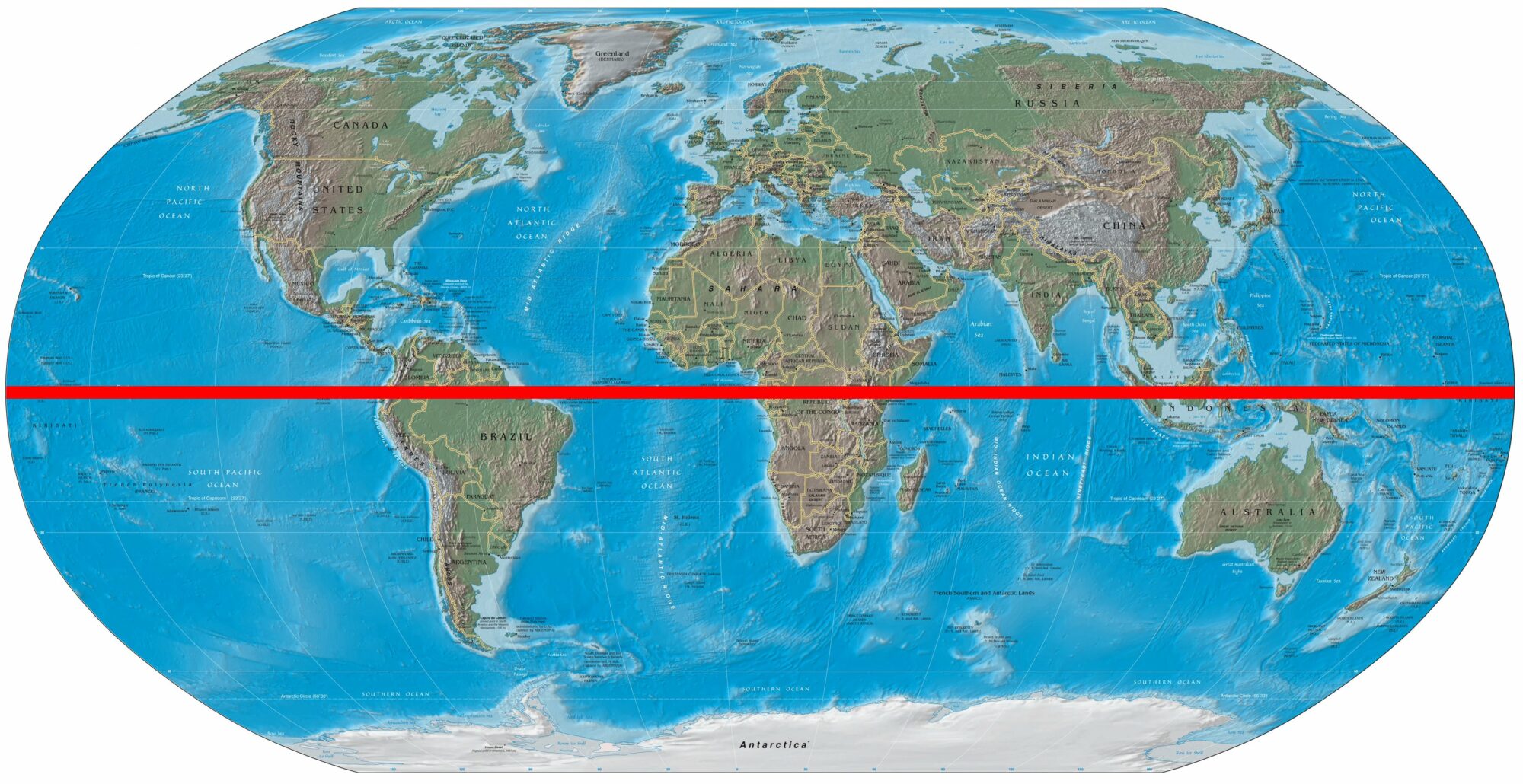 Yes, It would be amazing if I could draw a line and suddenly ALL my old habits disappeared. All my old standards instantly just were 'erased' and I could suddenly produce the resources to provide the quality and quantity of value I desire.
Are YOU one of "those"? Those few people out of a hundred that can just instantly 'change' their live's programming? Or, like me, do you struggle to implement new behaviors and patterns?
I've found that the majority of people are more like me, we seem to be more ingrained in our old patterns and behaviors.
Well, Good news!
If you haven't heard about it, the reason that deer is there, is because a deer, doing that, changed my life and empowered me to put together a LOT of life lessons, life has taught me over the years, almost instantly!
One is this: Draw that line, do your best to act AS IF it were as permanent as the equator. Do your best to behave as if… to BELIEVE as if. Nothing is permanent, even that 'equator line' isn't. There was a time 'before', and I'm sure it changed over the years as technology grew, and at some point, it just won't matter any more to us.
2 major results of this conversation…
What does this mean in regards of what you can expect in 2018?
What can YOU do about it?
In 2018, you will see more content, more quality, more ways to connect, affordably, and IMPLEMENT what you're about to read!!
What can YOU do about it?
Learn, and implement, your own Progression Plateau Prevention System! (working title)
In 2018, "The 3 Habits", "The 5 Steps", "Get It Done 101", and "High Performance" are going to be combined, twisted, tweaked, congealed, and DELIVERED to you in new and exciting ways!
You will have a whole new experience delivered to help YOU develop YOUR OWN plateau prevention system!!!
There are so many details I want to share with you right now… but I'm out of time!
Stay tuned, get, and stay engaged, and let's make 2018 amazing! The best way to ensure you're engaged in all the details, and learn and implement YOUR system is to make sure you're receiving my emails!
LINK (click this link, sign up, download, implement!)
Download the 3 Habits videos and pdf, IMPLEMENT those habits, build and grow them! And stay connected!
In 2018 we will grow, together – and draw some new and exciting lines, producing new and exciting futures!